Meet the Lenovo P90, the first phone to use Intel's new Z3560 processor: a quad-core, 1.83GHz 64-bit chip. That's paired with an Intel 4G LTE modem, too. The capabilities of both this processor and its LTE speeds aim to put it on par with other premium smartphones. It's available in three colors: pearl white, onyx black and lava red.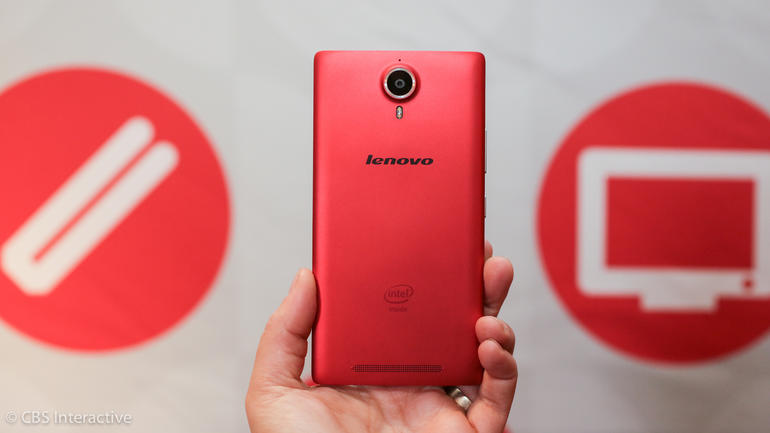 Sarah Tew / CNET
We got a look at a red model, which has a soft-touch finish and squared-off sides all around, with a generally plastic feel: the front display rises off the backing a bit.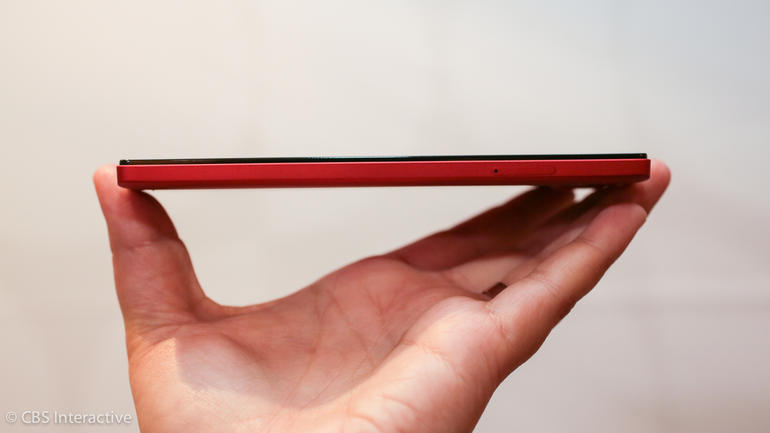 Sarah Tew / CNET
The P90 boasts a 13-megapixel rear camera with optical image stabilization, a front-facing 5 megapixel wide-angle camera. This is a big phone: a 5.5-inch, 1,920x1,080 IPS display puts it up in iPhone 6 Plusand phablet territory, but according to Jessica Dolcourt's hands-on test, this phone feels pretty weighty for its size.
Sarah Tew / CNET
A very large (4,000 mAh battery) is onboard for the ride, although how power-hungry this Intel processor is remains a little unknown. There's 32GB of onboard storage and 2GB of RAM in the $369 model available February 2015. For now, it runs Android 4.4.4: no Lollipop yet. It won't be sold in the US, however, and there's no word on which specific countries it will appear.
Lenovo P90 สมาร์ทโฟนแบตอึด สุดคุ้มค่า หน้าจอกว้าง 5.5 นิ้ว ในราคาไม่ถึงหมื่น มาพร้อมกล้องหลัง 13 ล้านพิกเซล และรองรับ 4G ทุกเครือข่าย
---
ระบบปฏิบัติการ (OS, CPU)
■ ระบบปฏิบัติการ : Android 4.4 (อัพเป็น 5.0 ได้)
■ หน่วยประมวลผล : Quad Core Intel Atom Z3560 64bit
- ความเร็ว : 1.8 GHz
■ GPU : PowerVR G6430
■ หน่วยความจำ 32 GB (ตัวเครื่อง)
- RAM 2 GB
---
ข้อมูลเครือข่าย (Network)
■ เครือข่าย
- 2G : 850/900/1800/1900 MHz
■ 3G
- AIS ✓900 ✓2100
- DTAC ✓850 ✓2100
- TRUEMOVE ✓850 ✓2100
- CAT ✓850
- TOT ✓2100
■ 4G Lte.
■ Data Technology : GPRS, EDGE, HSDPA, HSUPA, HSPA+,LTE
■ รองรับ 1 sim (Micro sim)
---
ข้อมูลตัวเครื่อง
■ จอแสดงผล IPS 16 ล้านสี
- Touchscreen Capacitive
- กว้าง 5.5 นิ้ว
- ความละเอียด 1920×1080 พิกเซล
■ ระบบเซ็นเซอร์ (Sensor)
- Accelerometer
- Proximity
- compass
■ สีที่จำหน่าย : Red, Black, White
■ Battery : 4000 mAh
■ น้ำหนัก 156 กรัม
---
ระบบเชื่อมต่อ
■ ระบบนำทาง: GPS, AGPS, GLONASS
■ WiFi 802.11 b/g/n/ac
■ Portable Wi-Fi Hotspot
■ Bluetooth 4.1, A2DP, LE
■ Micro USB 2.0
■ ช่องเสียบชุดหูฟัง 3.5 มิลลิเมตร
---
Camera
■ กล้องหน้า : 5 MP
■ กล้องหลัง : 13 MP
- Auto Focus
- LED Flash
■ ความละเอียดวิดีโอ : 1080p (30fps)